As momentum builds in the world's second-largest economy, a closer look reveals a variety of questions, challenges and uncertainties for China's policy makers.
Gross domestic product probably expanded 6.8 percent from a year earlier in the first quarter, according to a Bloomberg survey of economists ahead of a report due Monday at 10 a.m. in Beijing. That would be the same pace as the prior three months and faster than last year's 6.7 percent expansion.
With producer prices surging, exports rebounding and foreign-currency reserves stabilizing, the economy has defied the bears. The costs of such growth however are climbing and leaders are turning their attention this year to keeping the country's swelling debt from destabilizing the financial system.
To better gauge China's economy, here's a few key themes to watch:
Who's Investing
The rebound late last year was led almost entirely by the state as private investment in fixed assets slumped to the slowest pace on record. That spending has accelerated in the first two months of this year, signaling improved sentiment among those businesses, which are usually nimbler and more efficient than bloated state-owned conglomerates.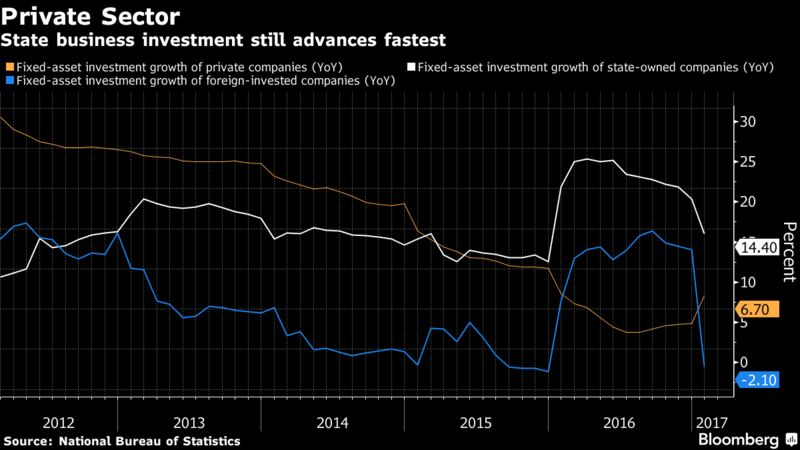 Monday's report also will signal whether that revival is temporary or lasting. If private enterprises are confident enough to boost spending and expand more aggressively, policy makers would have less to fear from the rapid pace of debt accumulation and the economic expansion would be more sustainable and balanced.
Deflating Bubble
Big-city home prices continued climbing after slumping at the end of last year. Authorities in about dozen cities have imposed tighter restrictions on purchases to deflate the bubble and help ease financial risk.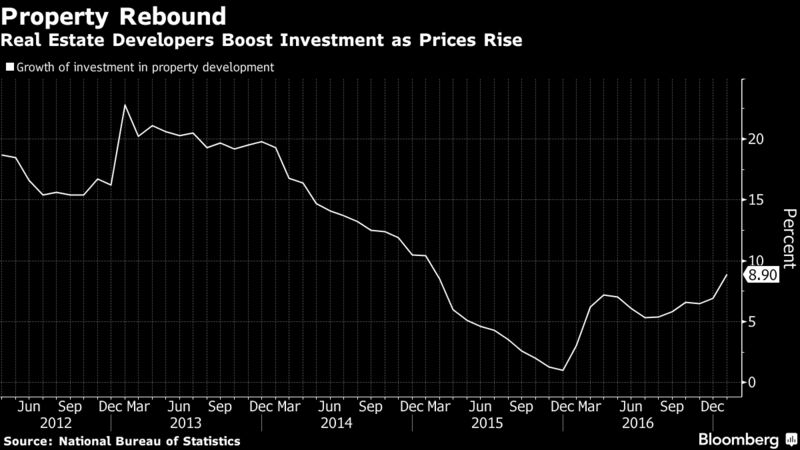 The latest data on completed property investment will show whether those curbs are slowing development, potentially weighing on economic growth. While sales fatten realtor paychecks and aid the services sector, construction plays an outsize role in the economy with its demand for workers and raw materials like concrete, glass and steel. If restrictions cause property investment to stall, China may need to bank on infrastructure to prop up growth.
Nominal Growth
Those who see the headline growth rate predictable might find more excitement with nominal growth, which expresses the pace of the expansion without adjusting for inflation.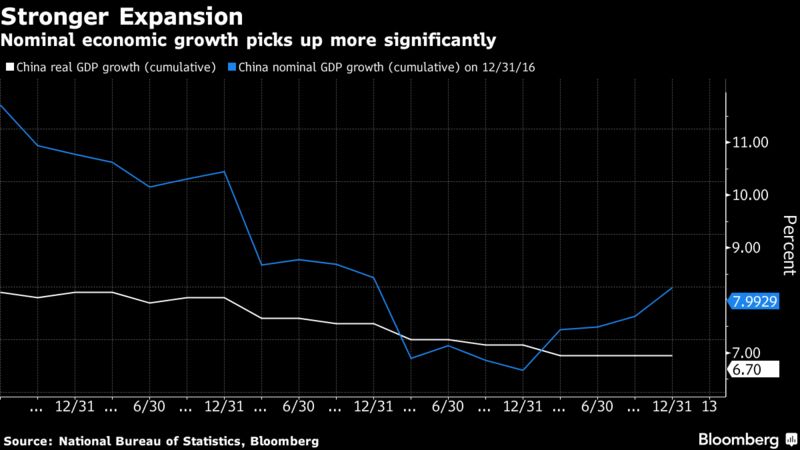 As factory prices have surged, the pace of that nominal expansion has picked up significantly since 2015 to almost 8 percent for the full-year 2016. That signals better revenue for corporations and stronger tax receipts for government agencies.
Consumption Pulse
Retail sales data will show whether the slump in the first two months was a just a seasonal blip or the start of something significant. Economists expect 9.7 percent growth in March with the cumulative number edging up to 9.6 percent from 9.5 percent in the first two months.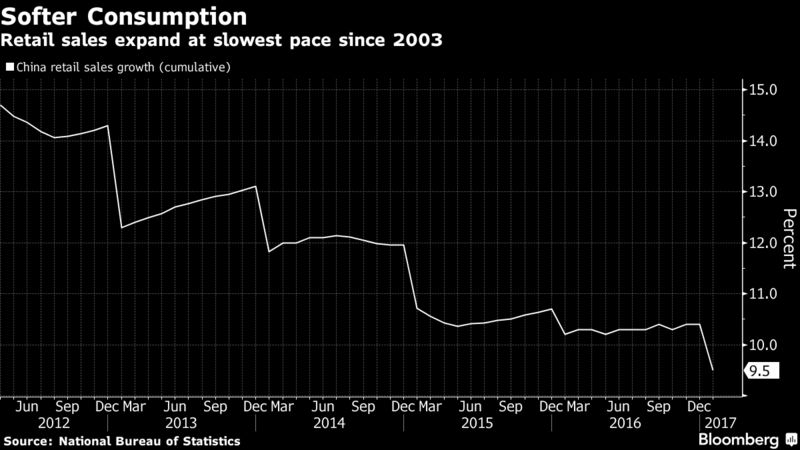 Prolonged weakness in retail activity wouldn't be promising for the rebalancing of the world's second-largest economy, which got 64.6 percent of its growth last year from consumption. While retail sales have been slowing for several years, the last monthly reading in December showed a 10.9 percent sales gain that was the best pace in a year.
Labor Market
Slower income gains, which grew at a pace slower than GDP last year, also are a drag on consumption. Monday's data blast will show disposable income levels for the last quarter, and the earnings of more than 270 million migrant workers, the pillar of the labor force.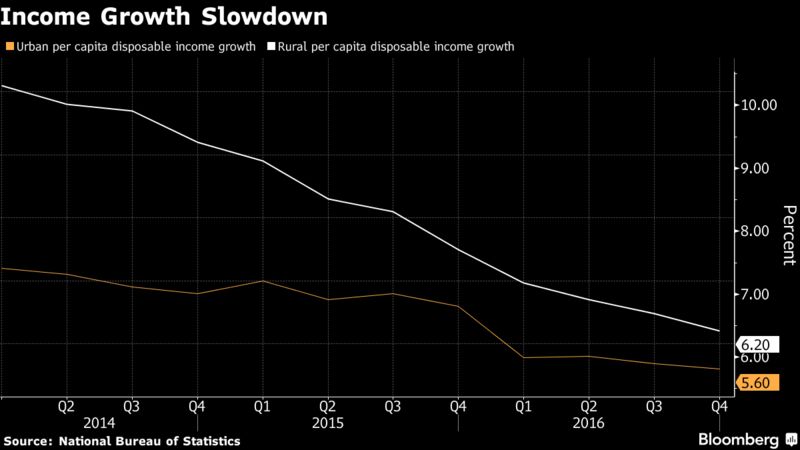 Statistics officials also are likely to offer some comments on the labor market Monday when they hold a briefing to discuss the data.
— With assistance by Xiaoqing Pi, and Miao Han
Bloomberg