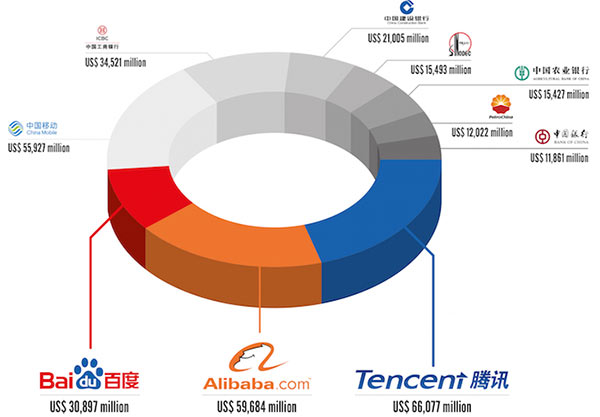 Tencent becomes the most valuable Chinese brand for the first time in the fifth annual BrandZ™ Top 100 Most Valuable Chinese Brands, followed by Alibaba and China Mobile.
The top 5 brands were all state owned enterprises five years ago while three of this year's top 5 are market driven private enterprises – Tencent (1st), Alibaba (2nd) and Baidu (5th).
The total brand value of the Top 100 Chinese Brands in BrandZ list is $464.2 billion, up 59% since 2011, having outpaced that of the BrandZ™ Top 100 Most Valuable Global Brands (+41%).
Top 10 Most Valuable Chinese Brands 2015
#
Brand
Brand Category
Brand Value 2015 ($M)
Brand Value Change 2015 vs 2014 %
Rank Change
1
Tencent
Technology
66,077
95%
2
2
Alibaba
Retail
59,684
NEW
3
China Mobile
Telecom Providers
55,927
-9%
-2
4
ICBC
Financial Institutions
34,521
-13%
-2
5
Baidu
Technology
30,897
55%
0
6
China Construction Bank
Financial Institutions
21,005
-18%
-2
7
Sinopec
Oil & Gas
15,493
18%
2
8
Agricultural Bank of China
Financial Institutions
15,427
-20%
-2
9
PetroChina
Oil & Gas
12,022
-11%
-1
10
Bank of China
Financial Institutions
11,861
-13%
-3
Source: BrandZ/Millward Brown