China's $278 billion social security fund has started investing in Hong Kong equities to achieve higher returns, according to one of the nation's top brokers.
Guotai Junan Securities Co. and its Hong Kong unit have been providing the social security fund with investment advice and trading services for mainland and Hong Kong stocks, Yim Fung, chairman and chief executive officer at Guotai Junan International Holdings Ltd., said in an interview on Wednesday.
"Equity investments could help secure the pension fund's portfolio wealth," Yim said in his Hong Kong office, adding that his firm has been buying and selling stocks for the social security fund in the city, without giving details of the transactions. "We have provided some stock and bond investment advice to them and some asset managers were hired to help do the investments."
Speculation China's pension funds will buy Hong Kong stocks helped make the city's benchmark gauge among the world's top performers this year with a 10 percent gain. The country's pension fund managers, who were until recently limited to investing in deposits and government bonds, have been handing over some of their cash to the National Council for Social Security Fund, which will oversee their investments in securities including equities.
Calls and emails to the National Council for Social Security Fund went unanswered.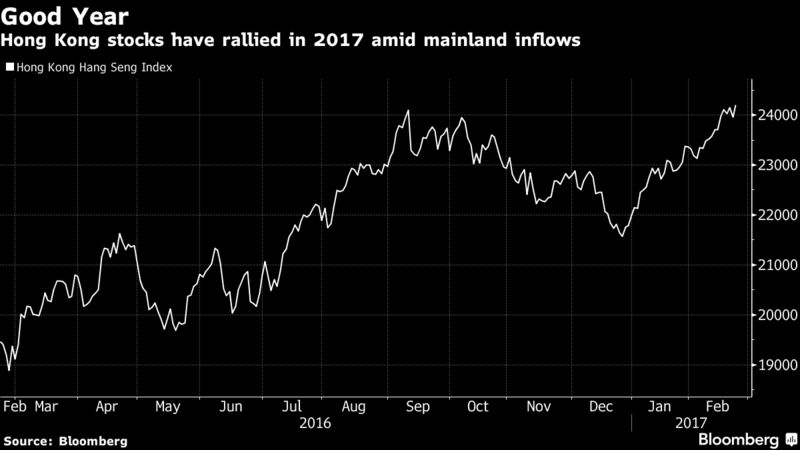 Yim also said he expects regulators to allow mainland investors to buy initial public offerings and exchange-traded funds in Hong Kong through links with Shanghai and Shenzhen. Inflows into Hong Kong stocks will lift daily turnover to between HK$70 billion ($9 billion) and HK$80 billion, he said, helping Guotai Junan International boost profit by 20 percent to 30 percent annually in coming years.
Separately, brokerages should be careful about not lending too much to investors to buy stocks, said Yim, who has been running the Hong Kong unit of the nation's third-largest broker by market capitalization since 2000.
The rapid unwinding of margin debt helped trigger China's $5 trillion stock market crash in 2015. The rout sparked regulatory investigations into the finance industry amid pledges to "purify" the market. Yim himself disappeared for five weeks at the end of 2015. Guotai Junan International said that he'd been assisting with investigations, and that neither he nor the company were under scrutiny. He declined to comment further in the interview.
"The leverage ratio should be set lower when stock prices get higher, because there are bigger risks that prices may fall," Yim said. "But now some people tend to allow investors to borrow more to buy after shares climb. That is very dangerous."
"When markets are good, people would easily forget about risks," Yim said. "Running a brokerage firm is like running a casino. You should not gamble on your own."
By Jeanny Yu