Chinese acquirers are seeing a large number of cross-border deals blocked at home and abroad as a sharp increase in volume makes regulators on both sides of transactions more cautious, Linklaters LLP said in a report Monday.
Of the $220 billion deals announced by Chinese acquirers, $40 billion to $75 billion — or as much as a third of those potential transactions — were canceled or withdrawn last year, according to the report, citing analyst commentary and press reports. Many were scuppered over concerns relating to national security or interest.
The stricter regulations on both sides are largely a reaction to the surge in outbound Chinese investments, Linklaters said. Buyers from the country increased their outbound spending by 15-fold in the last ten years, and more than doubled volume last year, according to data compiled by Bloomberg.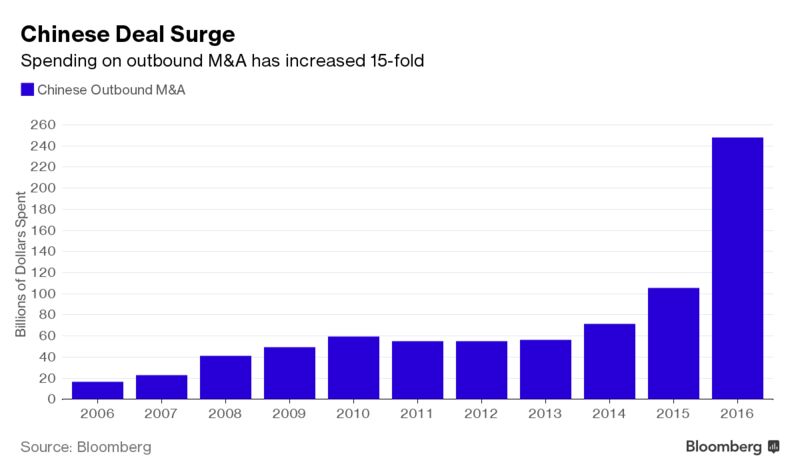 Regulators have blocked Chinese buyers from sectors including energy infrastructure, technology and electronics, which are seen to be critical to national security and interests, according to the report.
German semiconductor equipment maker Aixtron SE's planned sale to a Chinese-backed company collapsed in December after the U.S. government opposed the deal. Push-back from the same group, the Committee on Foreign Investment in the U.S., led to the termination of China's GO Scale Capital's plans to buy Royal Philips NV's lighting unit, Lumileds.
Chinese lawmakers have also ramped-up scrutiny of outbound investments, with a particular focus on sports and entertainment. The Chinese group buying Silvio Berlusconi's AC Milan soccer team lost backing from its state-owned partner after regulators in the country stepped up criticism of sports deals, people familiar with the matter said last week.
The country's General Administration of Sports warned in February of the risks around large, irrational overseas investments, including in soccer. Recently, People's Bank of China Governor Zhou Xiaochuan said some purchases of overseas sports and entertainment assets didn't fit with the nation's industrial policy.
by Sarah Syed Bloomberg