What a difference a quarter makes.
The MSCI China Index's 14 percent jump this year is its strongest start since 2006, and one of its best performances versus world equities since the global financial crisis. Traders are now willing to pay the most in six years for the gauge as the yuan stabilizes and concerns ease over global trade — risks that helped the measure sink 7.1 percent in the previous three months.
With calm returning to the market — even as some Hong Kong-listed stocks endure wild trading — and a steady flow from mainland buyers supporting valuations, Axa Framlington Asia's Mark Tinker says international investors will soon flip the switch on Chinese equities too. Overseas funds have so far been reluctant, yanking some $2 billion from exchange-traded funds tracking the shares. Tinker says increasing evidence that the rally isn't just another false start will restore confidence.
"There's stability and corporate fundamentals are good," said Tinker, head of Axa Framlington in Hong Kong. "This rally is playing out in a non-hysterical way. If you're a global investor holding expensive U.S. stocks and fearing political risk in Europe, you do start to wonder, why not own China? Nobody's thinking that the economy or the currency are going to collapse anymore."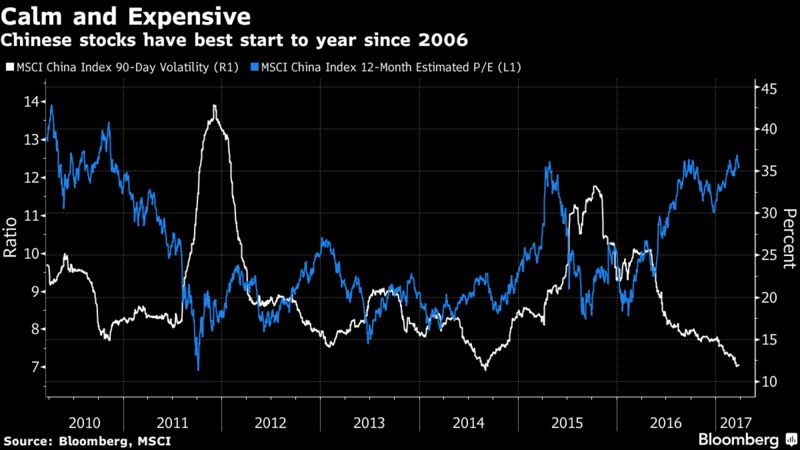 Better-than-expected data and signs that declines in foreign-currency reserves are easing have improved sentiment toward China's economy this year. U.S. Secretary of State Rex Tillerson's Beijing visit this month reassured investors that America won't immediately punish China over its trade practices, a sign that Washington's new administration may soften its tone on foreign policy.
The gains have captivated investors from the mainland, who've sent $14.4 billion into the Hong Kong stock market through cross-border trading links as capital controls make H shares one of the few offshore investments permitted by the government. With a weak currency driving mainland investors away from yuan-denominated assets, the daily average of net purchases of shares traded in the city via the Shanghai stock link is up 11 percent from 2016.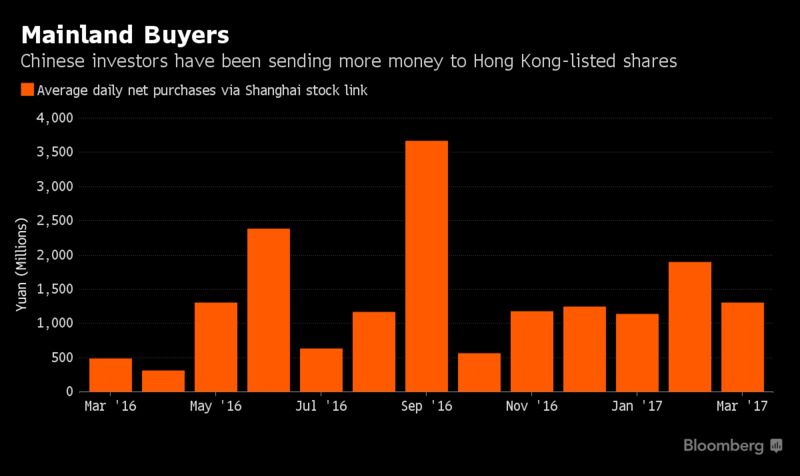 "The stock connect is one way to get a little bit of so-called overseas exposure," said Ayaz Ebrahim, the Hong Kong-based head of Asia-Pacific asset allocation at JPMorgan Asset Management, which owns more Chinese stocks than represented in global benchmarks. The MSCI China Index is still cheap "as long as there's economic stability," he said.
The stock gauge trades at about 12 times its members' expected earnings for the next year, or 11 percent more expensive than at the end of 2016. Though the discount has narrowed, that's still 22 percent lower than the multiple for the MSCI All-Country World Index.
Last week's collapse and suspension of Huishan Dairy Holdings Co.'s shares was a reminder why Hong Kong-listed equities command some of the lowest valuations among the world's largest markets. While Huishan makes up just 0.1 percent of the MSCI China Index, such violent swings and the city's record of long trading halts have kept international investors at bay.
"It's one of those things where if it hits a stock you don't own, you breathe a sigh of relief," said Tony Hann, the head of equities at London-based Blackfriars Asset Management Ltd. "Investors like us are certainly not blasé about it. Fortunately, the weighting of Huishan shares wasn't significant enough."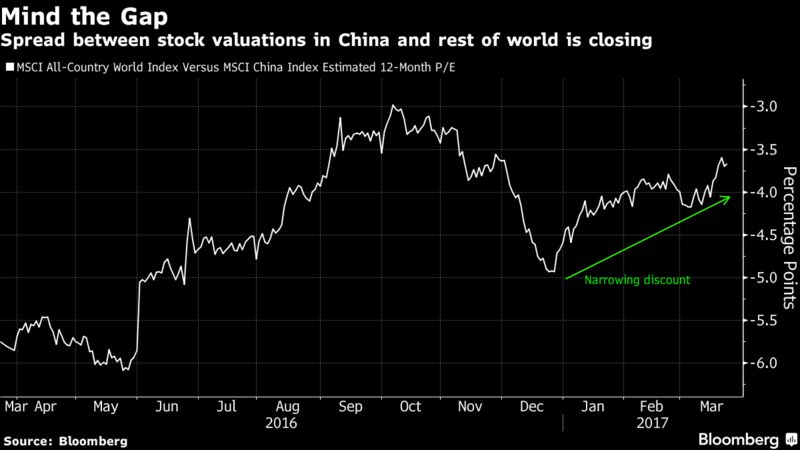 Broader sentiment toward China is improving. Fewer global investors count a major devaluation of the yuan or a trade war as their biggest risks, according to a Bank of America Corp. fund-manager survey in March. While there's been some rotation into emerging markets and out of the U.S., investors are still hoarding about 4.8 percent of their portfolios in cash, the survey showed.
Sherwood Zhang, a money manager at Matthews Asia in San Francisco, is among those waiting for a dip to buy more stocks in the MSCI China Index. Tighter monetary policy in China or aggressive U.S. protectionism could cut the rally short, according to Zhang, who is bullish on the gauge in the longer term.
"Volatility is rarely absent from the Chinese stock market," said Zhang, whose firm oversees about $26 billion. "A healthy selloff would present a good opportunity for us because the market has gone up a lot. Sentiment has improved and even international investors, though still negative, are less worried."
by Sofia Horta E Costa Bloomberg