The world's hottest property stocks are to be found in China as tougher measures to cool real estate prices fail to deter investors.
Chinese companies account for nine of the 10 best performers this year on the Bloomberg World Real Estate Index. Among members of the MSCI China Index, Country Garden Holdings Co., Sunac China Holdings Ltd. and China Evergrande Group are the standout winners with gains of more than 70 percent, five times the pace of the benchmark measure.
Soaring sales and improving profits go some way to explaining a surprise rally that has pushed the shares into overbought levels, lifted valuations and forced short sellers to retreat. While Credit Suisse Group AG says now's the time to take profit, BNP Paribas SA — one of only two brokerages to recommend buying all three stocks at the start of the year — says gains can continue, albeit more narrowly.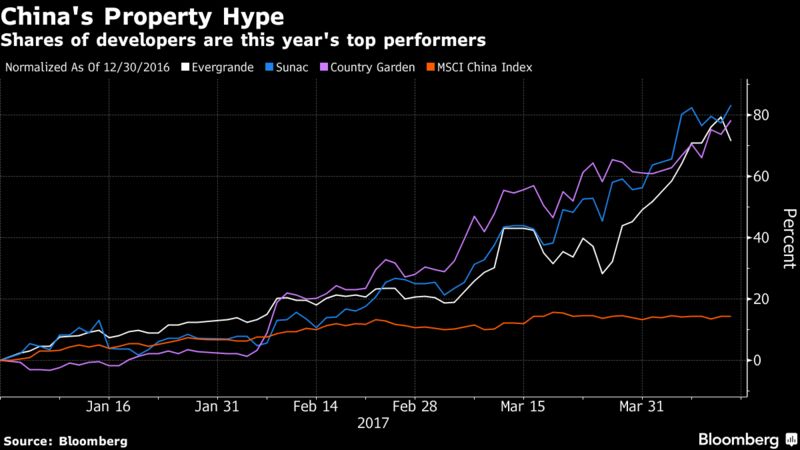 "Investors will be more selective in buying the stocks this year," said Wee Liat Lee, an analyst at BNP in Hong Kong. "Large developers will gain market share from the smaller players. You need to be a very big developer with diversified exposure across different cities in China to thrive amid tougher curbs."
Country Garden, Sunac and Evergrande trade at least 28 percent above analysts' average target price, though valuations remain below the multiple for the global real estate gauge. Lee said clients are now more receptive, after a global marketing tour in January was met with hours of debate and investors "trashing" his bullish takes on Country Garden and Sunac in particular.
"You can't ignore them after this rally," Lee said.
The firms have characterized themselves with debt-fueled expansion, aggressive appetite for land banks and a focus on size over profitability. Sunac was among the country's most active real estate buyers last year, lifting its total debt-to-equity ratio to the highest since the global financial crisis. Evergrande is China's most indebted property developer, although it's unveiled measures to reduce its net gearing and cut financing costs.
Soaring Sales
Still, sales for companies on the MSCI China Real Estate Index are forecast to soar 39 percent this year on average, while earnings will probably grow 9.2 percent. China's listed developers are witnessing the first drop in debt leverage since the 2008 global financial crisis.
"Earnings for these three firms are indeed so-so," said CIMB Securities Ltd. Hong Kong-based analyst Raymond Cheng. "But some investors would prefer rapidly-growing sales than profits only. Their soaring contracted sales in the past year could also lock in some profits this year or next year."
Riding China's property-market boom last year, contracted sales for Evergrande and Country Garden soared 82 percent and 120 percent respectively, making them the nation's top and third largest by that measure. Sunac's sales more than doubled to 150 billion yuan ($22 billion). Those gains outpaced the 36 percent growth for new-home sales nationwide.
Burned by the rally, bearish speculators have been trimming their bets. Short interest on Evergrande dropped to 11 percent of free float, compared to last year's high of 30 percent, according to data compiled by IHS Markit Ltd. and Bloomberg. For Country Garden it's just 3.7 percent, or half what it was in February.
Go Short
Sanford C. Bernstein & Co. analysts still recommend shorting Sunac, citing "stretched" valuations, declining profitability and high exposure to the bigger cities with buying restrictions, according to a note this month. Credit Suisse also has a word of caution on the sector, predicting revenues will rise at a slower pace in the second quarter.
Most first- and second-tier cities imposed home-buying curbs in the past six months, while top policy makers reiterated a pledge to limit property speculation at this year's National People's Congress. New banking regulator Guo Shuqing has said he will pay close attention to real estate bubbles after 45 percent of new loans in China last year went to the property sector, with most going to personal mortgages.
"The sales momentum should start to slow and we expect to see some year-on-year decline given the high sales base effect in 2016," Credit Suisse's Vincent Chan and Daisy Dai, based in Hong Kong, wrote in a April 12 note. There's a "high chance of profit taking."
Still, as mainland money continues to pour into cheaper Hong Kong-listed stocks through cross-border trading links, valuations are likely to be supported, say BNP and CIMB. Sunac, Country Garden and Evergrande are frequently among Hong Kong's most-actively traded stocks by mainland investors, according to exchange data.
"Many overseas funds argued that they're not comfortable with these aggressive firms," said Oscar Choi, a Hong Kong-based analyst at Citigroup Inc. "But with Chinese investors rising as a new source of purchasing power, these bears don't have too much say."
Bloomberg News
— With assistance by Sofia Horta E Costa, and Emma Dong