On a recent morning in Shanghai's Lujiazui financial district, Xiong Yun's eyes darted around the four computer screens at his desk, scanning activity in China's bond and futures markets.
Staring at the matrix of numbers, the former BNP Paribas SA trader was making sure his algorithms pounced on any arbitrage opportunities that popped up between government notes and their derivatives contracts. Xiong, now a fund manager and partner at Lingwang (Shenzhen) Investment Management Co., is part of China's new breed of traders, making money from more than just plain bonds.
While Xiong's approach would seem standard in credit markets around the world, debt-linked derivatives have until recently been a non-factor in China. But they're being used more after a central bank clampdown ended a three-year bull run and increased volatility: in the past year, trading in bond futures more than doubled and interest rate swaps volume rose by a third. The shift brings China's $10 trillion bond market closer in line with developed economies, and should offer more incentives to foreign investors who've stayed away.
"Derivatives such as bond futures and interest-rate swaps are on the rise, as traders pick up new tools to find returns," said Xiong, whose firm manages 3 billion yuan ($441 million) and has returned about 7 percent this year. "It's a sign that the market is maturing and it gives quants like us more opportunities."
China's bond traders have had an easy time in recent years, with total returns of 11 percent in 2015, according to Chinabond. But the market turned late last year after the People's Bank of China took steps to rein in growing risks in the financial system. Returns fell to 8 percent in 2016, said Chinabond, and this year are 1.3 percent. Adding to the pain was a clampdown by authorities on leverage, which had been widely used to boost strategies.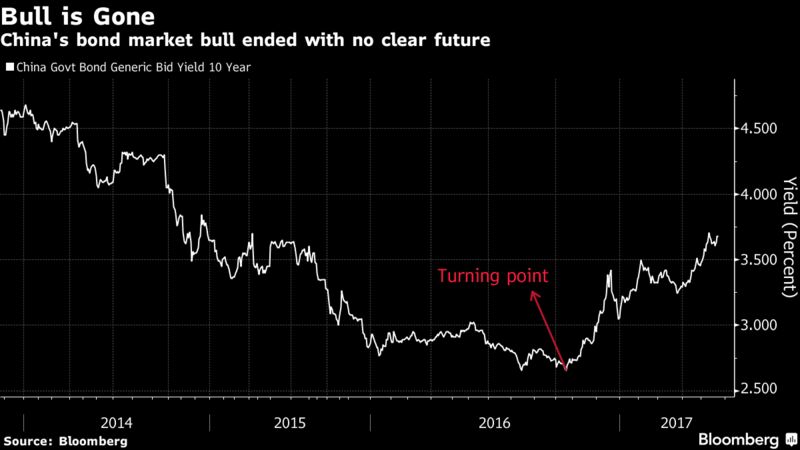 One reason the market has been volatile is that there is a lack of consensus on market outlook, said Le Huajun, an investment manager at Bluestone Asset Management Co. As making money by simply owning bonds became more difficult, traders have turned to derivatives, such as futures and swaps.
Lu Congfan, an assistant fund manager at HFT Investment Management Co., is among a growing legion of market participants who have reacted to recent events by creating trading accounts for bond futures. Derivatives are more useful now that market has become volatile, he said.
A fully fledged derivatives market is also a necessary element in luring foreign investors, who use the instruments to hedge their positions. The lack of hedging tools has been partly why overseas holdings of onshore bonds is less than 2 percent, despite the fact that China has almost fully opened its interbank market to offshore participants. The mainland's bond link with Hong Kong, which started last week, is a sign of how keen authorities are to attract assets.
Click here to read a QuickTake Q&A about the bond connect's opening.
Total value traded of benchmark 10-year government bond futures was 5.8 trillion yuan this year through June 9, according to the China Securities Regulatory Commission — a relatively small size, though a 155 percent increase from the same period last year. Yuan-denominated interest-rate swaps volume rose 32 percent year-on-year to 2.7 trillion yuan in the first quarter, according to the PBOC.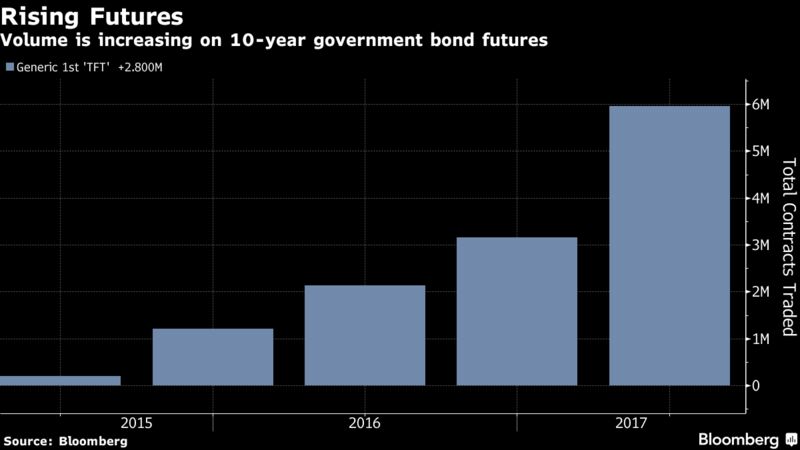 The mainland still has a long way to go in comparison with more developed fixed-income markets. The China Financial Futures Exchange only has contracts on 5- and 10-year government bonds, for example, and there are no options contracts on swaps and futures. Government interference still looms large: two years ago a crackdown in the stock-index futures market saw a 99 percent plunge in volume.
Still, appetite is growing among investors, though the fact the market is fairly new poses difficulties when it comes to building teams. Xiong, one of the first into government bond futures when trading resumed in 2013 after an 18-year halt, said that because it's so hard to find good derivatives traders, he chooses ones with math and science backgrounds and spends about a year training them.
Wang Ming, chief operating officer at Shanghai Yaozhi Asset Management Co. who said his fund was one of the first to add bond futures to its portfolios, is also on the lookout for recruits who can do more than just buy and sell fixed-income securities.
"We hope to hire versatile traders, preferably those who know how to trade both cash bonds and bond derivatives," said Wang.
Bloomberg News
— With assistance by Gary Gao, Judy Chen, and Yuling Yang