After decades of relentless gains, China's share of global exports is now edging down. Whether that continues hinges a lot on how fast it can shift into higher-technology shipments.
China's portion of the global export pie has shrunk from a high of almost 17 percent reached in December 2015, International Monetary Fund data show. The pullback is driven mainly by the growth of shipments from commodity-exporting nations like Brazil and Australia amid rising prices for staples like iron ore and bauxite, according to economists from Oxford Economics and TCW Group Inc.
Another factor is global demand tilting more to advanced machinery and cars, segments where China is just beginning to emerge as a competitor, says HSBC Holdings Plc.
Beijing's drive to create national champions, subsidize emerging industries, and force technology transfers from foreign firms in the country has prompted U.S. Trade Representative Robert Lighthizer to say it's an unprecedented threat to the world trading system. Despite the smaller share of global exports, the "Made in China 2025" policy blueprint envisions global competitiveness by that year across 10 key industries from robots to medical devices.
"Declining export market share of late is more likely a blip, rather than the start of a lasting trend," said Frederic Neumann, co-head of Asian economics research at HSBC in Hong Kong. "As China's share in global gross domestic product continues to rise, it's likely that its share of global exports will expand as well, with products stretching from mass manufacturers to increasingly more sophisticated products as well."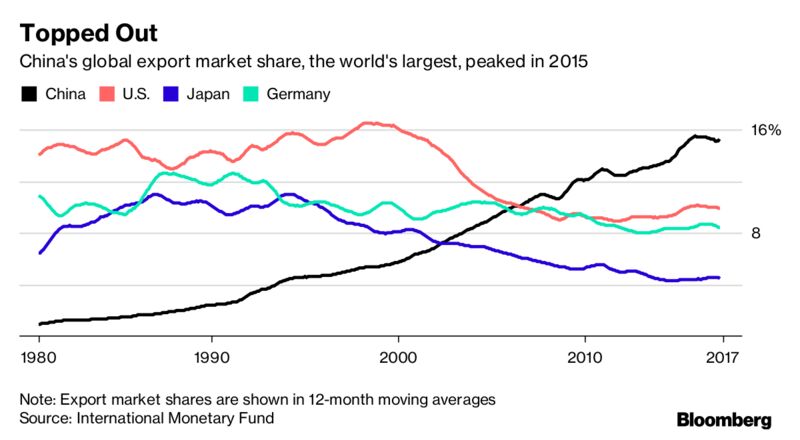 A rebound in global car demand has lifted German and Japanese exports, while China runs a large semiconductor trade deficit, says Neumann. That will reverse as industrial policy pushes for more advanced manufacturing, taking share from developed economies, he says.
It's in low-end industries like textiles and furniture where market share is pressured most. That's in keeping with the nation's policy of shifting to higher value-added industries from electric vehicles to robots. A recent pollution crackdown has raised costs for industries such as dyeing companies and paper producers, pressuring their competitiveness.
Low-end manufacturers also face rising wages, a shrinking workforce, and rising competition from lower-wage nations like Bangladesh and Vietnam in cheaper products such as T-shirts.
Although China remained the world's biggest textile exporter of last year, accounting for 37 percent, shipments fell 3 percent to $106 billion, World Trade Organization data show. Nations like Vietnam and Pakistan are winning larger shares, with Vietnam breaking into the top 10 exporters with 7 percent of global textile shipments last year, the WTO says.
Some market-share losses are being offset because more components of exports are made at home, not imported, said David Loevinger, an analyst at TCW Group Inc. in Los Angeles and a former China specialist at the U.S. Treasury Department. The domestic value added of gross exports has risen to 71 percent in 2014 from 62 percent a decade earlier, according to the most recent data from the Organisation for Economic Cooperation and Development.
Because China is a manufacturing exporter, it's not surprising that its market share peaked when global commodity prices were bottoming out, Loevinger said. "With commodity prices rising, commodity producers have been clawing back market share," he said.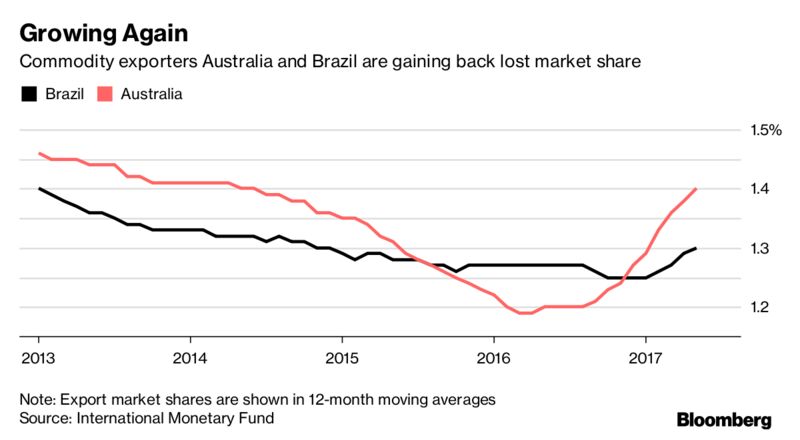 Meanwhile, the economy is also the victim of its own surging imports, which by definition increases the share of global exports for other countries, according to Andrew Polk, co-founder of research firm Trivium China in Beijing.
"China's biggest problem is that it can't export to the second biggest economy in the world — itself," says Polk. "The real beneficiary here has been other emerging economies, especially in Asia, and raw-materials exporters."
Bloomberg
With assistance by Kevin Hamlin, and Xiaoqing Pi