As exporters feel the heat of the trade war, China's powerful domestic-consumption engine was supposed to provide some protection for investors in the nation's stocks.
That's not working out so well. A narrative that's captured traders' attention in recent weeks has been a "consumption downgrade" in the world's second-biggest economy. With official data already showing retail sales growth slowing, investor alarm increased when China's biggest liquor maker, Kweichow Moutai Co., reported its weakest profit expansion in almost three years.
Moutai alone lost 212 billion yuan ($30 billion) in market value over six days last month. And stocks of companies that sell less discretionary items have done even worse. The Shenzhen CSI 300 Consumer Staples Index slid 22 percent in October, its worst month since the 2008 global financial crisis.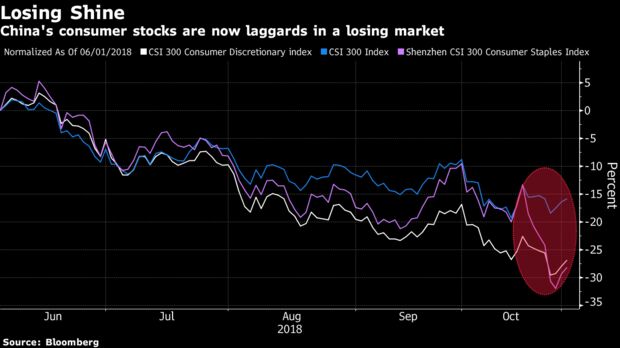 Dai Ming, a fund manager at Hengsheng Asset Management Co. in Shanghai, is among those who have bailed on China's consumer story for now. He sold off his portfolio of those stocks earlier this year, in favor of financials.
"We haven't figured out the reason clearly" for the apparent changes in spending habits, Dai said. Among the explanations market players cite:
Rising property prices and rents that have crimped the ability to pay for other items
A collapse in so-called peer-to-peer lending platforms that hit some individuals' finances
A probable slide in consumer confidence — for which few gauges exist — thanks to negative news on trade relations with the U.S.
And signs of consumer behavior becoming more sophisticated, with shoppers getting savvier at finding bargains.
The earnings from Moutai, which makes the baijiu liquor that's often prized as a luxury gift, were "concrete proof of China's consumption-growth slowdown," Dai said. The next key tests will be Single's Day, a shopping bonanza promoted by online retailing giant Alibaba Group Holding Ltd., and spending over the lunar new year holidays, he said.
Bloomberg Intelligence analysts remain cautious on the prospects for spending during Single's Day, noting that Chinese online appliance sales were weak in October.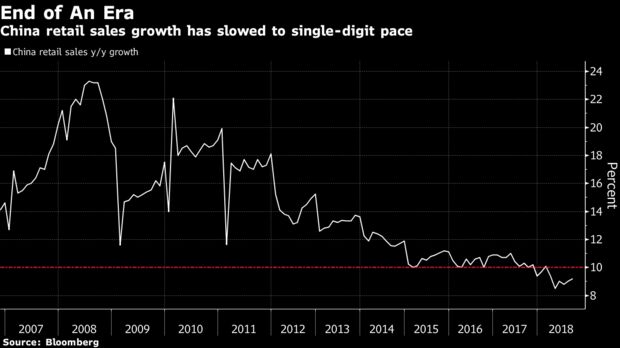 Investors aren't the only ones worried about China's consumers. Authorities are taking steps to shore up spending — all the more so with trade tensions sending manufacturing gauges to the weakest levels since the economy's 2015-2016 hard-landing scare.
A slowing auto market has been one major reason for the deceleration in retail sales this year, and China's top economic planning body is proposing to halve the tax on car purchases to 5 percent, Bloomberg News has reported. Personal income-tax cuts are also on the table.
"There are likely to be more actions," predicted Laura Wang, a China equity strategist at Morgan Stanley in Hong Kong. "For now we still look at this as a relatively short-term cyclical-consumption momentum slowdown instead of a longer-term structural decline," she said. Improvements could come as soon as the first quarter of 2019, Wang said.
Still, Wang recommends tilting toward materials and energy companies at the moment. "We do not recommend adding exposure to broad consumption-related sectors," such as autos and retailing, she said.
Among the consumer-related companies that showcase the reason for caution:
Tsingtao Brewery Co. saw a mere 0.4 percent rise in sales volume in the third quarter
Midea Group Co., China's — and the world's — largest appliance maker, said this week that revenue rose 1 percent in the third quarter, against analysts' forecast for an 8.9 percent increase
SAIC Motor Corp Ltd. saw the first year-on-year decline in sales since 2012 in the third quarter
Chinese consumer stocks have wiped out $302 billion in market value as of Thursday from June 12, when the discretionary and staples sectors of the CSI 300 Index reached recent highs, according to data compiled by Bloomberg. Both groups climbed on Friday, as did all the CSI 300 sectors, as a rally took hold on news President Donald Trump asked his cabinet to draft a potential trade deal, following a phone call with counterpart Xi Jinping.
Pending hard news on a trade deal, though, some say China's consumers have been in a funk.
"People haven't been this pessimistic in over a decade — consumers' confidence is weak and they dare not spend money," said Jinghua Lin, an analyst at Capital Securities Corp. "We may have to wait until the end of mid-term elections in November and the G-20 meeting" for any shift in sentiment, Lin said, referring to next week's U.S. congressional elections and the subsequent planned meeting between Trump and Xi.
Bloomberg
— With assistance by Jeanny Yu, Amanda Wang, and Ludi Wang