First came the clampdown on shadow banks. Then it was gaming companies and drugmakers. Now education firms are in the Chinese government's crosshairs, roiling stocks and reminding investors how quickly their fortunes can change in a country rife with regulatory risk.
RYB Education Inc. and Bright Scholar Education Holdings Ltd. both plunged by records in U.S. trading, while Vtron Group Co. and China Maple Leaf Educational Systems Ltd. sank in Shenzhen and Hong Kong after the government unveiled new rules that prohibit companies from financing for-profit kindergartens via the equity market. The losses echoed declines in Chinese peer-to-peer lenders, gamemakers and pharmaceutical companies after regulators increased scrutiny of the industries this year.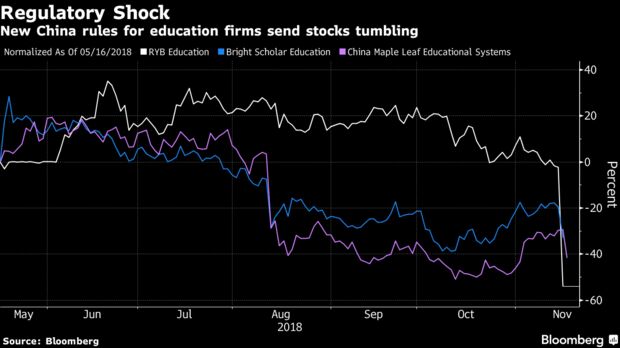 While policy makers say the new rules will help protect consumers, they've taken many investors by surprise. That's adding to jitters in a $5.8 trillion stock market already grappling with a trade war and the weakest economic expansion since 2009. China's benchmark Shanghai Composite Index has tumbled 19 percent this year, one of the steepest declines worldwide.
"The education sector had massive growth potential and was once red-hot among equity investors," said Steven Leung, executive director at Uob Kay Hian (Hong Kong) Ltd. "It's a pity that the government is stepping up regulation. What's more annoying for a lot of sectors which rely heavily on the government is that you can't expect a timeline, and many sudden changes in policies are a surprise."
Chinese parents spend an average of $42,892 on their children's education, almost double that of counterparts in countries like Canada and the U.K., according to a report last year from HSBC Holdings Plc. The potential for growth helped propel shares of schooling firms to record highs as recently as June, with recently-listed China New Higher Education Group Ltd. and China Education Group Holdings Ltd. more than doubling in value within six months. Both dropped at least 4.5 percent in Hong Kong on Friday.
In new guidelines for the industry published late on Thursday, China's government said it wants to build more public kindergartens. It called for public institutions to educate half of the nation's kindergarten students by 2020.
"Policymakers were concerned about excessively profit-driven education that may cause social issues," Credit Suisse Group AG analysts Alex Xie and Thomas Chong wrote in a note.
The move comes just a few months after Chinese regulators stopped approving new game licenses, a decision that erased billions of market value from companies including Tencent Holdings Ltd. and NetEase Inc. The government is restructuring how it reviews video games amid concerns about addiction, myopia and other ills among the country's youth. Tencent said this week it was unable to provide further clarity on the approvals process, which has been the biggest drag on its revenue this year.
RYB Education was only a year ago at the center child-abuse allegations, suspicions of which led to a teacher being fired from one of its schools and detained by authorities. While Beijing police later said it found no evidence of impropriety, the stock never recovered after the investigation sparked fury on Chinese social media.
Bloomberg
— With assistance by Ye Xie